Do you remember crossing days until your trip while you're seated at your office desk? The fluttering in your stomach as you finally take your seat on the plane waiting for it to take off? The first glimpse of your destination from your hotel room's window? The glorious sunset which you can't seem to tear your eyes away from?
If all these sound familiar, then you, dear traveller, are part of the pack for whom travel is the one true love. You already know this, but there is no going back from this love! Join us as we swap stories of memories when we realised that Pyaar Travel Hai!
Share your cherished travel memories in Tripoto's Pyaar Travel Hai contest and stand a chance to win flight and hotel vouchers by Cleartrip worth Rs 25,000!
The Prizes
The best entry will win a Cleartrip 2N/3D domestic voucher worth Rs 15,000 and a domestic return flight voucher worth Rs 10,000.
The next five top entries will win domestic return flight vouchers worth Rs 10,000.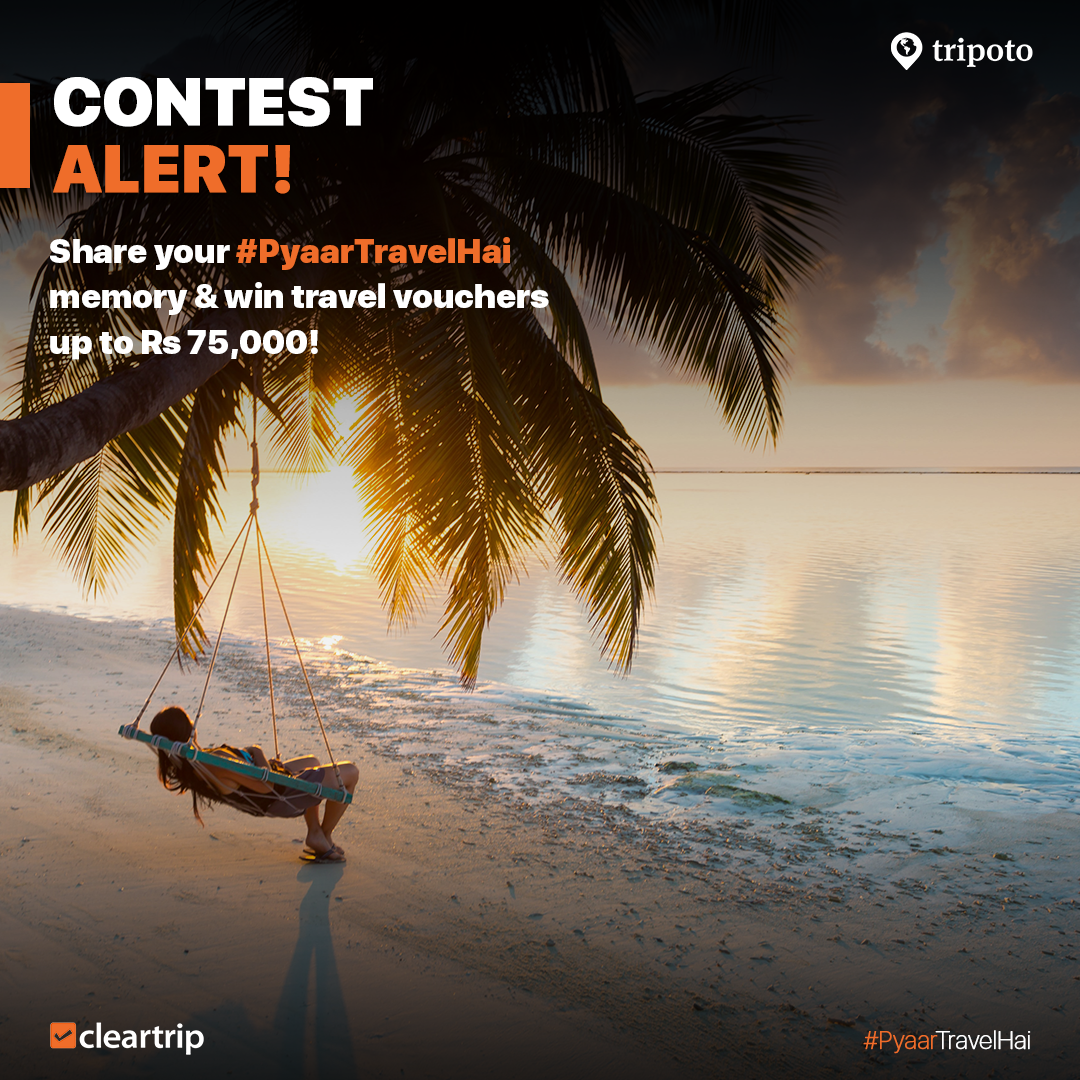 How To Participate
Participate in Tripoto's Pyaar Travel Hai contest where all you need to do is pick out memories that made you realise how much in love you are with travel. That memory could be sitting on a beach and watching a sunset, licking your plate clean while eating a local thali or even something as simple as enjoying a plate of Maggi in the mountains!
Rules Of The Contest
1. This contest will be held on Instagram.
2. Your entry can be in the form of a photo, a reel or a video that captures a memory that reminded you that Pyaar Travel Hai.
3. You are allowed to upload multiple entries to participate, so don't hold back!
4. Add catchy captions to your entries! Describe the memory you've captured and explain why it reminded you of your love for travel.
5. You must add the hashtags #PyaarTravelHai and #CleartripXTripoto and tag @tripotocommunity and @cleartrip for your entry to be eligible.
6. The winners will be revealed on Tripoto's Instagram page and Cleartrip's Instagram page on 18th February 2022.
7. Click here to read the complete terms and conditions of the contest.
Get The Ball Rolling Already!
The contest starts on 12th February 2022 and ends on 15th February 2022 at 11:59 pm.
We'll be sharing the top entries on Tripoto's Instagram page on stories, so the quicker you participate, the better!
So scroll through your mobile galleries and storage drives and showcase your travel memories that'll transport you back to those beautiful moments of travel that you fell in love with.
In association with Cleartrip.
This content was originally published here.