The Justice Department's contempt of Congress charges against Steve Bannon sends a message not only to other witnesses called by the Jan. 6 inquest, but to countless other people who face Congressional subpoenas.
Driving the news: Think pharmaceutical execs, NFL bosses, baby food manufacturers, social media moguls — you name it.
---
That message is: It's a new day for Congress' investigative muscle.
Lawmakers have sent a spate of referrals for prosecution to the Justice Department in recent years, and they've fallen on deaf ears.
This case signals that congressional subpoenas matter, and that people under subpoena take big risks when they defy them.
Reality check: Bannon was uniquely defiant of Congress. According to the indictment, he didn't even figure out what documents he has that the committee might want — a typical step, even for people who have no intention of turning over those documents.
What we're watching: It's not clear what this indictment means for former Trump chief of staff Mark Meadows, who's also been subpoenaed.
First, Trump has a much stronger executive privilege claim regarding him than Bannon — at least, comparatively speaking.
Second, Meadows and his lawyer engaged with the committee in a way that Bannon didn't. But Meadows' lawyer has signaled he won't play ball, and will rather wait for the conclusion of Trump's lawsuit against the National Archives and the committee — which could take years. The committee, meanwhile, is in a hurry.
What's next: Bannon is expected to turn himself in on Monday for arraignment. And if his case goes to trial, it could be quite a scene.
The Justice Department could call members of Congress or Hill staff as witnesses. And Lord knows who Bannon would call.
Asked for comment, Bannon pointed Swan to this tweet by his daughter: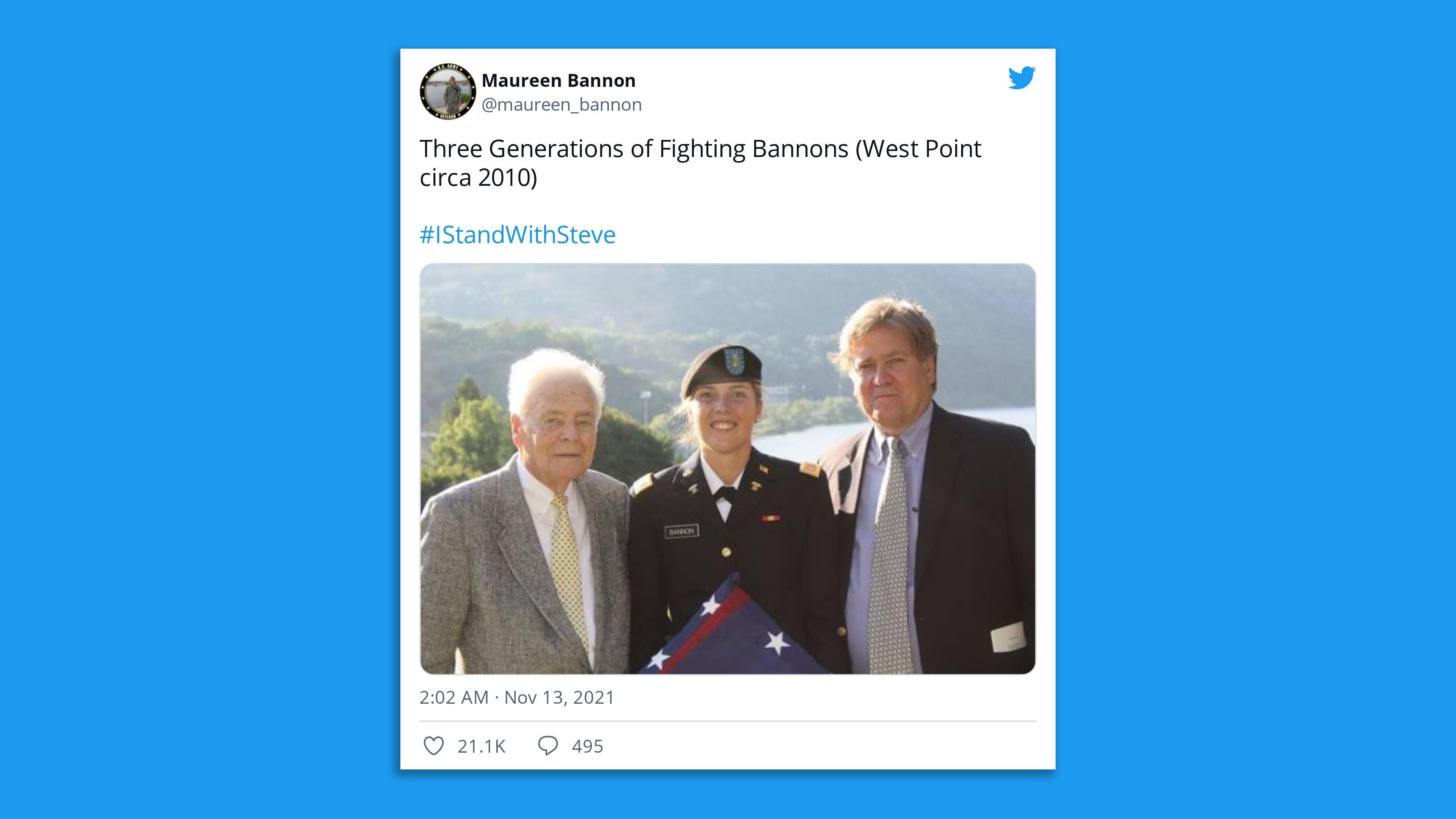 This content was originally published here.